« Back to the Resume DirectoryPost Your Resume for FREE!
Alfred Williams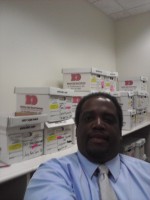 Profile:
I have experience working from home as I currently do collections work from my home office. I have several years of litigation pre-trial experience working on trial teams. I have worked on IP, Business and Medical Mal-practice cases. I am very detail oriented and am able to meet deadlines in a timely manner. I am comfortable with last minute changes to work assignments and can multi-task while maintaining priorities.
Resume Contents:
Connect with me:

Alfred Williams

Alfred Williams
Contact Information:
mraewms@gmail.com
you can reach me at www.williamsvirtualsupport.webs.com which is my virtual business website or via email at mraewms@gmail.com
About Me:
I have over ten years of experience working in the Intellectual Property and Business Litigation fields as a Paralegal and Case Assistant. My experience is in coordinating efforts with outside vendors to compile voluminous litigation materials, prepare and deliver trial notebooks, witness kits and trial exhibits to meet time-sensitive deadlines. I have worked on several trial teams, with some of the top attorneys in the Twin Cities, with a broad range of responsibilities, encompassing the timely and complex preparation of cases from investigation to discovery, trial phase, post-trial motions and appeals. I also have over fifteen years of customer service experience. Working in sales,telemarketing and call centers has given me valuable experience in how to make the customer feel that they are the center of attention and that their opinions do count.
Skills:
Microsoft Office Suite; Word, Excel, Powerpoint & Access Collections Skip-tracing Document review
Download My Resume