« Back to the Resume DirectoryPost Your Resume for FREE!
Karina Sigalovskaya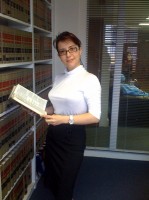 Resume Contents:
About Me:
Bi-Lingual Sr. Paralegal, notary public, strong analytical, problem-solving and managerial capabilities; strong communication, organizational and computer skills; experience providing executive level administrative support; ability to prioritize and handle multiple tasks at the same time; team-oriented; enthusiastic and flexible. I have over 15 years of experience in the legal field and would be an asset to any firm, company or organization looking for this type of expertise.
Previous Experience:
LAW OFFICES OF JON L. NORINSBERG, NEW YORK, NY May 2003/January 2011 EXECUTIVE LEGAL SECRETARY • Provided high level administrative support for plaintiff's federal civil litigation practice; • Transcribed, proofread, typed and ensured quality of correspondence, legal pleadings, documents and forms; • Maintained, organized and updated files, court filing, followed-up with Court Orders and docketing; • Responded to a high volume of phone calls, maintained calendars, scheduled appointments, meetings and conferences; communicated with Chambers and Opposing Counsels; • Interviewed potential clients and witnesses, reviewed and prepared new client-matter forms, maintained updated matters and client lists, translated different types of documents as needed; • Processed incoming and outgoing mail; • Electronically filed documents on CM/ECF in Southern, Eastern and Northern District Courts; • Prepared and gathered all information necessary to settle the case and conducted legal research of various statutes and cases when needed; • Document scanning, profiling and retrieval, performed other additional administrative duties as needed; • Managed accounts payable, receivable, payroll, payments of business expenses, etc. DARBY & DARBY, NEW YORK, NY September 2000/May 2003 PATENT PARALEGAL • Prepared documents for Senior Partner in Patent Prosecution Dept.; • Organized and worked on files and cases by using database ("Pattsy" in "Worldox"); • Expedited updates of docketing information and papers at clients and attorney's requests; translated documents; • Prepared auditor's draft, engagement letters; and filed legal documents with the United States Patent and Trademark Office; HELD, HELD & HELD, BROOKLYN, NY January 1996/February 2000 PARALEGAL • Assisted attorney with research for specific laws; • Prepared medical records, authorizations, pleadings, and maintained records for plaintiff's personal injury cases; • Prepared research that was needed for summary judgment motions; • Accompanied attorneys on client meetings for translation/interpretation purposes and translation of documents; • Prepared legal documents and settlement brochures; • Prepared correspondence, signed up clients, had heavy client contact; • Worked on various negligence and litigation cases.
Skills:
• Word Perfect 6/8/9/10/11/12/X4 • Trial Works; Timeslips; SAGA; Pattsy • CM/ECF (Electronic Case Filing) • Windows 95/98//NT/ME/00/XP/Vista/7 • Fluent in Russian and Ukrainian • Type 70 wpm; LexisNexis, QuickBooks • Microsoft Word 97/00/03/07/10/Outlook • Styles, TOC, TOA • Adobe Acrobat 6/8/9 Pro Extended
Education:
AMERICAN ACADEMY OF VOICE WRITING -- NEW YORK, NY Court Reporter/Broadcast Captioning/CART, April 2011/Present (Internship) INTERBORO COLLEGE -- NEW YORK, NY Associate Degree in Paralegal Studies, September 1996/December 1998 INSTITUTE OF ETHICS OF LAW -- KIEV, UKRAINE Bachelor Degree, August 1990/September 1994 - 1,500 hours of Training for Interpretation and Translation in Russian-English; - Code of Ethics for Interpreters and Legal Personnel; - Research and Legal Terminology.
Download My Resume